Dear Readers,

This is our last days to reach our goal. We have progressed considerably this week but still not within reach of our main target.

Books du Jour

needs your help so it can move to PBS. Please spread the word about our campaign and tell all your friends that we need their support. To DONATE follow the link on picture below and find out what we offer.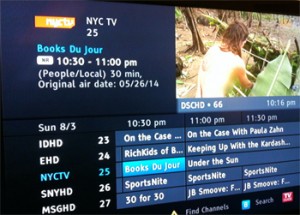 We have great books and services to offer for your support. Such as the list of authors below who will sit down with you for a coffee. Here are some of the authors who are participating in the
Books du Jour
campaign: Nicola Kraus and Emma McLaughlin, Chris Pavone, Amy Sohn, Rick Moody, Sheri Fink, Jeanine Cummings, Joan Silber, Alice Cohen, Lodro Rinzler, Allan Topol, Jackson Kaguri, Scott Turow, M J Rose, T. Jefferson Parker, Boris Fishman, George Prochnik, Kerry Zukus, Edie Meidav, Caroline Leavitt, Heather Terrell, Anne Korkeakivi, Raymond Khoury, Gwen Edelman, and the list may just get longer . . . Click on picture above to see the detail and DONATE.
The Books du Jour Team